So far there have been several singles off of Taylor Swift's '1989' album. And they have all been highly successful. "Shake It Off" and "Blank Space" were the forerunners of of '1989' and had been ruling over music charts even until now. "Style" was the latest single from the album and was released with a music video of it's own. However, now there are signs that '1989' may be coming up with yet another single. "Wonderland" is a bonus track from '1989' deluxe edition and it just may be the next single off the album.
iTunes says "Wonderland" is a single!
Out of nowhere, iTunes US released "Wonderland" as a single today (Feb 17).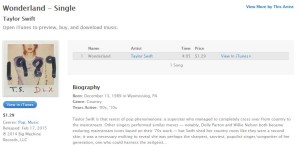 No official source related to Taylor Swift has confirmed whether this is true or false. But it is unlikely that iTunes will go ahead and release a song (a bonus song for that matter) as a single off of the best performing album right now. So there must be some fire beneath the smoke. Maybe Taylor will confirm it or she won't. But the fact is, "Wonderland" is marked as a single and is available for download on iTunes and Amazon stores.
Taylor Swift was on several talk shows and interviews during the past few days and this specific subject never came up. If she wanted to create a huge buzz about the next single, she could have done so by just posting on Tumblr or on any social media and it would spread like wildfire. So as far as Taylor Swift is concerned, it is unclear if she wanted to release "Wonderland" as a single, not to mention so soon after "Style" was released as a single just 4 days ago.
"Style" along with it's music video has been getting so much attention since it's release as a single. It's climbing up Billboard music charts as we speak, and it expected to break into top 10 from the week beginning on 23rd Monday. This would guarantee Taylor Swift 3 singles within top 10 positions on Billboard Hot 100, which is pretty cool.
Update:
https://twitter.com/taylorswift13/status/567565826451316736
So there it is. All your questions answered in one Tweet. Sorry I didn't see this before. Looks like there will be another release tomorrow. Two more bonus songs "New Romantics" and "You R In Love" will be released possibly tomorrow and day after tomorrow as singles.
So "Wonderland" is a single, but not a single off of '1989' at the same time. Quite confusing. But just enjoy the music!