It is both tragic and wonderful news at the same time. Two of the biggest artists in the world and two of the bestest friends in the music industry have decided to take breaks from their careers-extended breaks, they say.
Taylor Swift and Ed Sheeran have had two colossal years back-to-back. Taylor Swift just concluded her several-months long 'The 1989 World Tour' and Ed Sheeran too completed some extended live performances in UK. This not a mutual decision by the two artists-in fact Taylor Swift has not officially announced of her break.
Ed Sheeran, however, today announced that he will be stepping on the breaks of his music career for a extended period of time. He has been working extremely hard for the last five years non-stop and is probably at a point of utter exhaustion. It is not easy to be Ed Sheeran or Taylor Swift. Ed Sheeran made an official announcement of his vacation in a Tumblr and Facebook post today.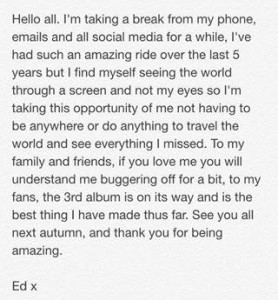 His big plans for the vacation includes travelling the world. So await some cool and hilarious Instagram pics from @teddysphotos. However, as fans, we should respect his decision to take a break. The acoustic music industry will have a very bad year in 2016, but we understand and we support your decision 100%. Everybody needs to power down once in a while-even the great Ed Sheeran.
Talking about the greats-the biggest Pop artist in the music industry-Taylor Swift is too planning on taking a vacation-supposedly a 3 year vacation from music. There hasn't been an official announcement yet. But several sources have hinted that Taylor Swift will take a break after the conclusion of The 1989 World Tour. She too probably will travel the world, seeing as how much she enjoyed enjoying the nature when in New Zealand and Australia.
http://taylorswift.tumblr.com/post/134634891680
Taylor Swift needs a break desperately. She has been working 24*7 ever since her '1989' album was released and the whole music industry and her life was caught in a massive tidal wave. We are pleased that it turned out to be a huge success, and glad she rode the wave like the Queen she is. But even the Queens needs a shut-eye. And Taylor needs one right now. So as with Ed's decision we stand by Taylor's decision to take a break-be it 3 years long *sob*.
We wish both the artists a wonderful vacation and a full recovery and re-connection with all the family and loved ones. Happy Holidays!