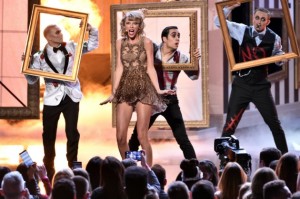 Taylor Swift gave an electrifying performance of "Black Space" last night at the 2014 American Music Awards(AMA). Eye witnesses and the live stream of the event showed that Taylor took crazy to a whole new level with her performance–the part about "Oh My God, Who is she, I get drunk on jealousy…"
Watch Taylor Swift Performing "Black Space" at AMA 2014
http://www.youtube.com/watch?v=7u-tQL3XB44
Excuse the quality, there will be better quality ones later on. Comparing with the actual music video for "Blank Space", I think this live performance was quite excellent considering all the limitations of the stage and everything.
First Ever Dick Clark Award
Accolades don't seem to end for Taylor Swift. If none of the AMA winnings were available, they went on to create a whole new award to present to Taylor. Taylor Swift was awarded the Dick Clark Award for Excellence at the AMAs last night. What's more? Diana Ross herself awarded this trophy to Taylor.
The Dick Clark Award is something;
"given to an artist who achieves a groundbreaking feat or creates a landmark work. It is to be bestowed upon someone whose spirit and excellence capture the visionary passion that Dick Clark himself incorporated into everything he did."

 
Taylor Swift was given this award for her groundbreaking achievement of having three consecutive albums selling over a million copies in the opening week. This is something which no artist in the history of music has been able to accomplish. I believe her next album will go Platinum within a week as well.
Taylor Swift was quite overwhelmed to receive the coveted Dick Clark Award ans said she was "so blown away" by this gesture. Taylor had all her best pals– Selena Gomez, Karlie Kloss, Sam Smith and Lorde to congratulate her upon receiving the award.
Watch Taylor Swift Accept the Dick Clark Award for Excellence
http://www.youtube.com/watch?v=Z1sDpQaLJwY
Congratulations Taylor Swift!!! May the accolades never stop…