Sam Smith was the happiest guy at 57th Grammy Awards held last night, after winning 4 of the 6 nominations. 4 Grammy awards for the work of one album is a huge deal, so huge that he barely could carry all 4 awards home. Sam Smith had an amazing year in 2014 with the release of his Platinum selling album 'In The Lonely Hour'. It's lead single "Stay With Me" broke music charts continuously. This is probably the most commercial and non-commercial success a debut studio album had in the recent history. And we couldn't have been more proud of him.
Sam Smith Wins 4 Grammys Including Record of The Year
The second most prestigious award at The Grammys is Record of The Year, first being 'Album of The Year'. And Sam Smith's "Stay With Me" won Record of The Year among very high competition. The competing tracks were "Fancy" by Iggy Azalea, "Chandelier" by Sia, "Shake It Off' by Taylor Swift and "All About The Bass" by Meghan Trainor, all of which were major songs of 2014. One could have expected Sia to win this category, which we would have been OK with too.
Another Grammy was won by Sam Smith for Song of The Year, which also was grabbed by 'Stay With Me'. Again, "All About The Bass", "Chandelier", "Shake It Off" and "Take Me To Church" by Hozier gave high competition to Sam Smith, which makes a win in these categories so much more important.
Sam Smith sky rocketed to fame in 2014. So did Bastille, Iggy Azalea, HAIM and Brandy Clark. Undoubtedly 2014 was an important year for all of them and hence their names appeared on Best New Artist category. Considering Sam Smith won the above two categories and the next category, it is pretty clear that Sam Smith deserved Best New Artist award.
Best Pop Vocal Album was yet another high competition niche, with albums such as 'Ghoststories' by Coldplay, 'Bangerz' by Miley Cyrus, 'My Everything' by Ariana Grande and "X" by Ed Sheeran. A lot of fans believe that this award was meant to be for Ed Sheeran. "X" was such an amazing album and is still at number 2 on Billboard 200 chart. But Sam Smith's 'In The Lonely Hour' album managed to grab that Grammy category as well.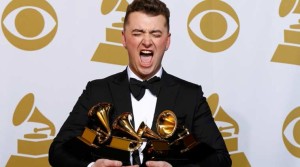 Sam Smith Thanks His Ex-Boyfriend Breaking His Heart
Sam Smith's relationship last year had inspired him to come up with the 'In The Lonely Hour' album. Much like Taylor Swift's ex-boyfriends are responsible for Taylor's accolades, Sam Smith said the same thing upfront, to the Grammy audience at Staples Center, CA.
"Just a quick one – I want to thank the man who this record is about, who I fell in love with last year. Thank you so much for breaking my heart because you got me four Grammys."
That was pretty epic! He further added, after winning his second Grammy,
"I just wanna say that before I made this record, I was doing everything to try to get my music heard… I tried to lose weight and I was making awful music. It was when I started to be myself that the music flowed."
This is a very powerful message to everybody out there. This goes on to prove that you don't have to try to please everybody. You just need to please yourself and the right people will stick with you.
Winning 4 Grammy awards and saying "I feel like Kate Winslet at The Oscars", made it a pretty epic and memorable night for Sam Smith. A massive congratulations to all of his success and we wish him much more success to come. I know several million people are already awaiting his second album.
What do you think about Sam Smith's 4 Grammys last night? Did he deserve them all? Or did Sia and Ed Sheeran were a little neglected at the 2015 Grammy Awards? Let us know.