Taylor Swift was nominated for three Grammys tonight, but she didn't win any of it. Obviously she must have been sad, but she didn't let is show even for a second. In fact, she seemed to be the person who had most fun at the Grammy Awards 2015, period!
First up Taylor Swift and her long time BFF Abigail Anderson showed up at the red carpet and posed for some kickass photos. She looked gorgeous in an almost-luminous Bluish Green classy and sexy dress. Taylor Swift got the opportunity of presenting Best New Artist award, which went out to Sam Smith. What Taylor Swift said was pretty epic. Watch below.
https://www.youtube.com/watch?v=9MgsKEb5iJg
Pretty great advise for the other artists who lost on the category. But little did she know, that she too had to chew on the same bitter pillow as the Grammy night progressed and when she didn't win any of the three categories "Shake It Off" was nominated for. Just shake it off Taylor, 2016 Grammy Awards will be all about you.
However Taylor Swift did not allow lack of Grammy awards affect her having fun during the night. Take a look at these pictures of Taylor Swift from the Grammy Awards 2015.
As expected Taylor Swift brought her most awkward dance moves to the Grammy night as well. She danced off to almost every performance tonight. We have been fortunate enough to capture some GIFS for your viewing pleasure.
Watch Taylor Swift Dance at The Grammy Awards 2015
For some reasons she made these adorable faces too. We know why. She was asked if 'Shake it off' concept came out of something she said several years ago.
#RIPMe
The best thing happened to Taylor Swift was that she buried the hatchet with Kanye West. After the 2009 VMAs debacle, Taylor Swift and Kanye West have been quite out of each other's paths. But this Grammy awards night reunited them. It is unclear who approached who first. But I'm guessing Kanye West took the initiative. I see no scenario where Taylor Swift could have lead the scene. Whoever did it, it went all so well and they are best friends in a second.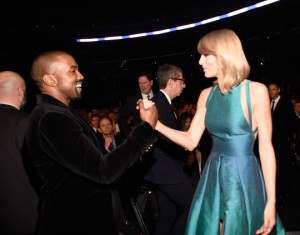 This is how Taylor Swift and Kanye West ended their reunion. Talk about things escalating quickly. This next picture is on a whole other level.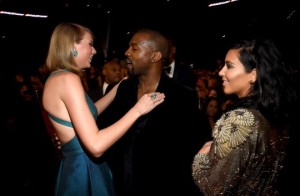 Taylor Swift is practically in the arms of Kanye west, while Kim Kardashian watches it all from distance. It was like Taylor and Kanye were meant to be friends–like a friendship bubble waiting to burst and it finally burst! We are so happy for this friendship. It was an ugly feud and we are so glad it is all over now. Next up, Katy Perry.
Taylor Swift met Madonna at Grammy awards 2015 and she was so excited that she ended up tweeting about it. Taylor Swift is the most popular artist in the world right now (not me, Billboard says so) and yet she remains so humble.
https://twitter.com/taylorswift13/status/564660570452787200
And so ends what you would call a pretty epic and memorable Grammy night. She didn't win Grammies, but she didn't let it take her aura down. She shook it off and moved to her own beat. That's why we love her. Keep doing what you are doing Taylor.
Also be prepared for Style music video, that will drop anytime now!