Kanye West have been doing all sorts of controversial and notorious things over the years, the music community actually had got used to his madness. But when people accept the crazy they just go overboard. "Famous" is a track from Kanye West's latest album 'The Life of Pablo' and it was controversial from the lyrics itself.
"Famous" directly too shots at Taylor Swift saying;
I feel like me and Taylor might still have sex
Why? I made that bitch famous (God damn)
I made that bitch famous
Taylor Swift's party was ready to sue Kanye on this and I do not know what happened thereafter. But this "Famous" music video is sure to rekindle the fire that had been swept under the rug between Taylor Swift and Kanye West.
"Famous" music video was released on Tidal in a live event for a massive crowd. The crowd and the fans were shocked to see that the music video was nothing but a nude fest. 12 famous people including Kanye and his wife Kim Kardashian themselves were completely naked and sleeping in one massive bed for the entirety of the 4 minute long music video.
This could have been debited to Kanye West's 'genius' account had he not been attacking some beloved celebrities. It may be a work of art. But it's offensive to the music industry.
1. George W. Bush,
2. Anna Wintour
3. Donald Trump
4. Rihanna
5. Chris Brown
6. Taylor Swift
7. Kanye West
8. Kim Kardashian
9. Ray-J
10. Amber Rose
11. Caitlyn Jenner
12. Bill Crosby
Who's real and who's not in "Famous" music video?
We do know that Kanye West and Kim Kardashian are the real themselves in the video too. However, all others are either look-a-likes or wax figures. Taylor Swift's look-a-like is sleeping with her breasts shown right next to Kanye.
Rihanna is shown naked in the video and she is doing vocals on the track as well. So she might be ok with the impersonation.
Catelyn Jenner looks awfully similar to the real person and he/she is crazy enough to do something like this for the family's sake. Chris Brown is obviously a fake and so are other celebrities.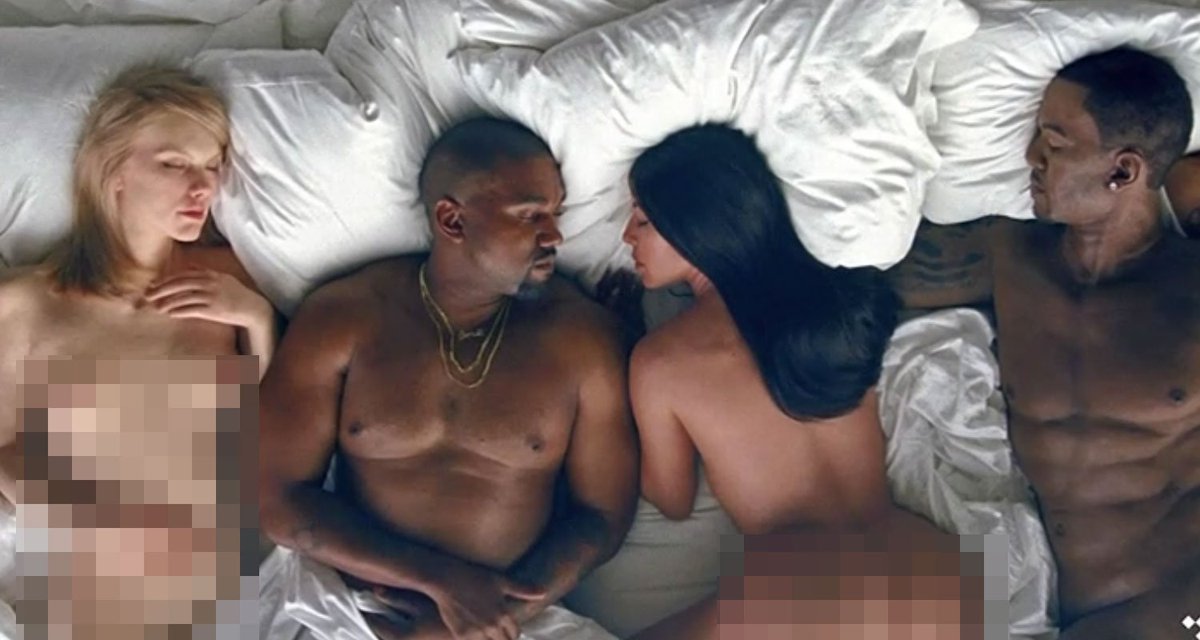 It's one thing to convey a strong message through your music. Kanye has done that time to time and we respect him for that. But taking cheap shots at other musicians is the lowest of the low one can stoop to. It's not like Taylor Swift and Kanye West had a feud in the music bizz. All I can conclude is that Kanye West feels small about his success compared to that of Taylor Swift's and he's taking cheap shots to gain more publicity.
Get your vote on
[polldaddy poll=9454914]
Well, Kanye West's little stunt at publicity worked. "Famous" music video is blowing off on social media just because Taylor Swift look-a-like was nude in the video. That itself says how popular Taylor Swift is. Nobody is talking about the real Kim Kardashian who was naked in the music video. 'Cause we all know her story.
If you thought he was a genius before, now you have proof that he's just a pervert who's threatened by Taylor Swift's success and will do pretty much anything to sell some extra copies of his albums.
It isn't even worth the time to discuss about Kanye's cheap tricks at publicity. If you want to vent and get it out of your system, the comments section below is your outlet.