Everybody predicted correct. Everybody predicted that it was the "Bad Blood" music video that is in the making when Taylor Swift and her millionaire friends were spotted wearing weird clothes and gathering into one place. Miss Swift herself was seen with a new hairstyle and draped in white clothing-so were her other besties-Cara Delevingne, Hayley Williams, Matha Hunt, Karlie Kloss, Zeydana, Selena Gomez and even Kendrick Lamar. So we already know it's something special. Check out the pictures of these celebrity friends working on the set of "Bad Blood" music video.
But today, Taylor Swift confirmed our predictions. She was in fact recording the "Bad Blood" music video and looks like she has something special in store for us.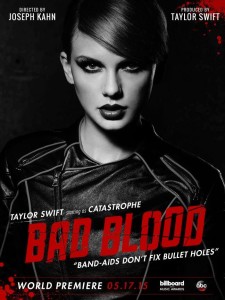 So here is everything you want to know about the upcoming "Bad Blood" music video. The release date of the music video is set to May 17, 2015 at Billboard Music Awards 2015. It has been directed by Joseph Kahn, who also produced "Blank Space". We know how good that was, but if you want more proof, he also produced Eminem's "Space Bound", Shakira's "Can't Remember To Forget You", Dr. Dre's "Kush" and a few dozen more. Executive producer? Taylor Swift herself.
The "Bad Blood" information leaflet represents a movie poster. Why? Is the music video going to show a story? Most probably. Taylor captioned "Meet Catastrophe" on this poster on Facebook. And the poster says "Taylor Swift starring as Catastrophe", so it is clear that Taylor will be playing some epic role on the "Bad Blood" music video. We are excited!
"Bad Blood" is the fourth visuals off of the highly successful '1989' album. "Shake It Off", "Blank Space" and "Style" were all massively popular, gaining over 700 million views in 7 months, 800 million views in 5 months and 150 million views in 2 months respectively. We can only hope that "Bad Blood" will break all these records.
Mark your calendars for May 17th because the visuals for "Bad Blood" is coming up. If the previous music video releases were any indication, Taylor will release teaser clips from the upcoming music video in the coming weeks. So stay tuned with us for more updates.