The 18-year-old actress and singer, Olivia Rodrigo had the biggest debut into the music industry an artist could hope for. She conquered charts and smashed streaming records with her debut single "Drivers License." Propelled by this success, she is all ready to release her debut studio album, titled 'Sour.'
Heartbreak-backed and possibly real-life-inspired "Drivers License," in its first three days in the US, sold over 16,000 digital downloads and received more than 21 million streams. The song broke the Spotify record for most one-day streams for a non-holiday song, with over 15 million global streams on its fourth day, and went on to become the fastest song to reach 100 million streams on the platform. Further, it became the fastest solo song to reach 500 million streams on Spotify in just 62 days. The song also peaked at #1 on Billboard Hot 100 and stayed there for six consecutive weeks, the only debut single in history to achieve such a feat.
It is most definitely difficult to follow up this level of success and Olivia Rodrigo did take a shot with her follow-up single "deja vu." The single debuted within the top 10 of Billboard Hot 100.
On April 13, 2021, Olivia Rodrigo announced her debut studio album, titled 'Sour' with eleven tracks including both songs above.
Olivia Rodrigo 'Sour' Album Artwork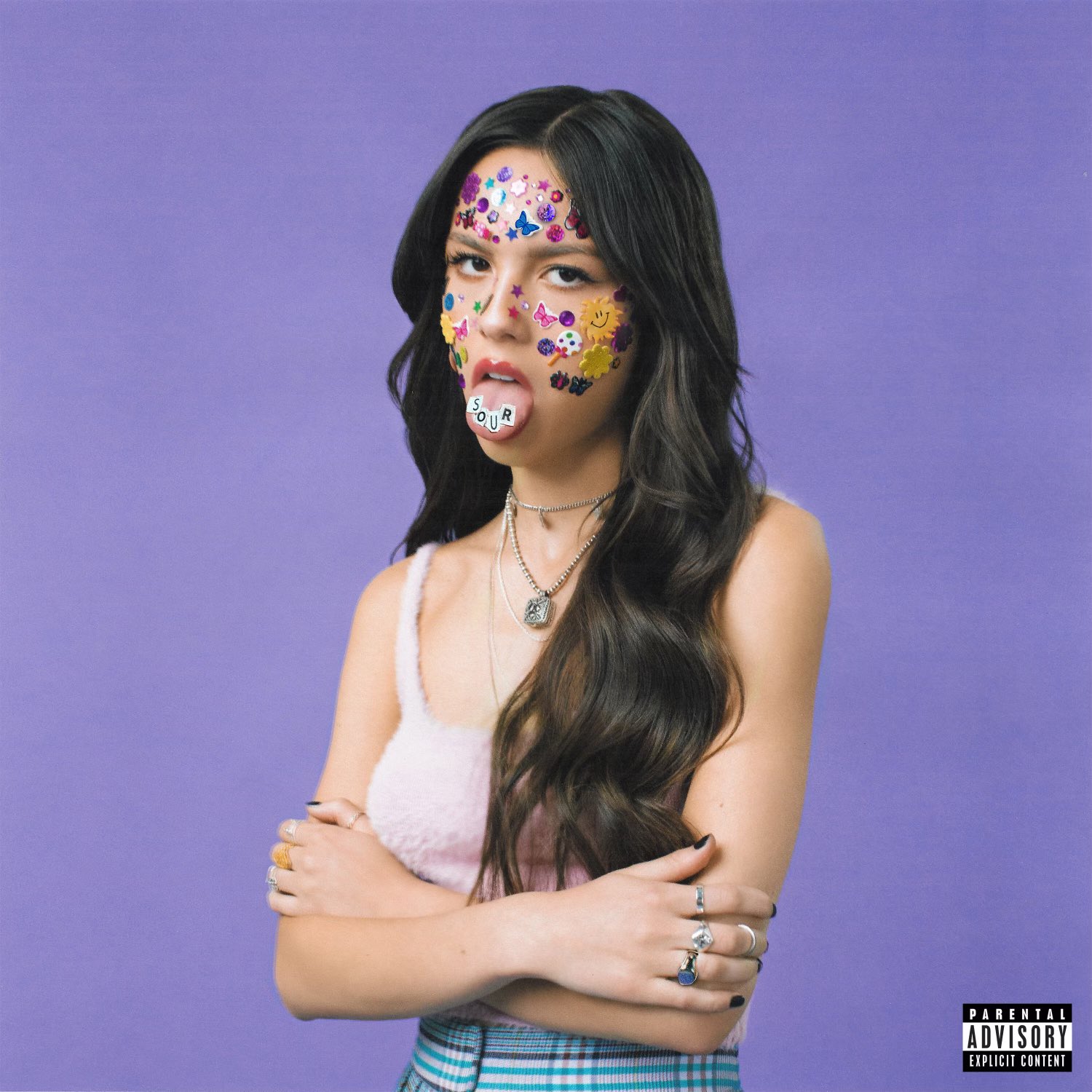 ---
---
Olivia Rodrigo 'Sour' Album Tracklist
Olivia Rodrigo 'Sour' Album Release Date
Olivia Rodrigo's debut studio album released on May 21, 2021
'Sour' Album Review
A very common theme, as expected, on the 'Sour' album is Olivia's relationships, especially the ones that have gone south. It is not wrong to say that this album is heartbreak-inspired.
Olivia Rodrigo gained worldwide success with her debut single "drivers license" and her teenage innocence and beautiful vocals proved to be a winning formula. So, it was only logical for this success to be followed up by further opening up herself for her personal life.
In some songs, Olivia tries to cope up with the fact that that boy is gone. There is nothing she can do to get him back. Different songs on the album tackle different emotions she battles through this situation. She bursts out in anger in "traitor," calling him out for the massive betrayal he did. "favorite crime" narrates her story as being a murder case, where her heart was murdered by four guilty hands–that of her ex-boyfriend and of the girl he cheated on her with.
On songs such as "enough for u" and "1 step forward, 3 steps back," Olivia sings about the troubles she had during her relationship. There were so many red flags, but she kept pushing on. Because, when you are young, you are naive, and you believe that every guy is the 'one.'
But he moved on, rather quickly, to another relationship with a girl. And Olivia has no idea how to cope with the fact because she is still sobbing her eyes off. Olivia does wish him the best of luck with the new girl in "good 4 u," but she also hopes that he is not "happier" with her than he was with Olivia.
The album is sweet chaos of all the emotions one goes through after a breakup. Anyone who can relate, leave a comment below.
"jealousy, jealousy" and "brutal" are two songs that deviate from the theme of breakups. These songs tackle some of the hardships that every young person goes through in their life. You could be a millionaire with the most famous songs in the world, but 'life' still happens to you.
'Sour' album is the perfect storm of chaos and being a teenager in the modern world. Olivia's songwriting skills and vocals really do shine all throughout the album and we cannot wait for more.