Ariana Grande has given us a taste of what is in store for us in her upcoming fifth studio album 'thank u, next.' This album is inspired by the same-titled song, that was released a month back cornering her lessons learnt from her ex-boyfriends. Today, she released the first ever single from 'thank u, next' album, titled "imagine."
Releasing the new single "imagine," Ariana Grande Tweeted what this song means to her; "a simple, beautiful love that is now (and forever) unattainable." The song is definitely sweet and talks about a cute relationship status between the superstar and her dreamy guy. This song is in complete contrast to her previous single "thank u, next," which talks about how she is moving from her exes having learnt valuable lessons for life. Ariana explained why she decided to release "imagine" right after a breakup anthem like "thank u, next."
"7 rings" is a song from 'thank u, next' album, yet to be released.
Is "imagine" About Mac Miller?
Something Ari said about the song makes us feel as if the song is definitely about ex-boyfriend Mac Miller. In the previous paragraph, we mentioned Ari's comment on the song; "a simple, beautiful love that is now (and forever) unattainable." Why is this love forever unattainable? It would be so if the guy is not alive anymore or married to another woman. None of her ex-boyfriends are married to any women as of yet. However, Mac Miller, Ariana's sweetest love, is no longer among us. RIP!
Listen to "imagine" by Ariana Grande
---
Download "imagine" Single on iTunes and Amazon
---
The single was released with a trippy lyric video, and Ariana Grande confirmed that there will be no music video for this song.
Lyrics Review and Song Meaning of "imagine"
The entire song is about Ariana's imagination of what a perfect relationship would look like.
Verse 1
The first line of the first verse is quite deafening. She says she wants to live in a world where she is not recognized by anybody. The firs and foremost thing she imagines to have is a bit of privacy when she is out in the streets. Being an artist of Ari's calibre, she should be getting little to no privacy at all in public. Recently, there was a rumor that Taylor Swift was being carries in a huge suitcase to avoid paparazzi. 
The rest of the lyrics talk about how she would imagine a perfect date night would go. Ordering the popular Thai cousine-Pad Thai, staying up all night, cuddled in bed and whispering sweet nothings in each others ears. Then get naked and jump in the bathtub together, resting in a foam of bath soap. Sounds like a very cozy night-in. Obviously, she does not have to worry about makeup with him.
"imagine" song could be talking about Ariana Grande's relationship with late rapper Mac Miller. Ari confesses that one of her boyfriends taught her love and heartbreak in "thank u, next" and we believe she is talking about Mac Miller. A few months into their separation in early 2018, Mac Miller passed away of drug overdose.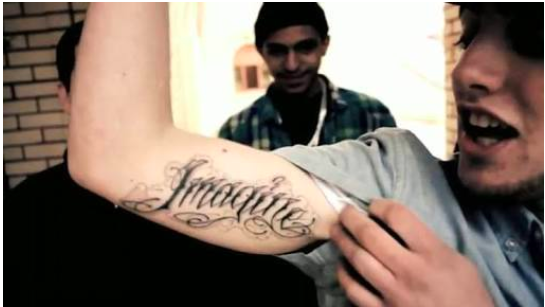 Pre-chorus
Several noises relating to taking pictures on a camera and putting them on social media. 'Dipped in gold' is a reference to wearing expensive clothing. But at the end of the day, she wants them on the floor with her boyfriend.
Chorus
It all sounds so good until Ari asks us to imagine a relationship like this. True, it does sound too good to be true. But it's not hard to imagine.
Verse 2
Ariana Grande and Mac Miller's first kiss is forever on YouTube. The ex-couple's first kiss happened in Ariana's music video for "The Way," where the director made them kiss on cam. Watch the BTS clip below.
They weren't dating at the time, so it is unclear if Ari is talking about this kiss or one that happened after they started dating.
You know you are in a true relationship when you two share each others weirdest stories. The most embarassing and deepest thoughts that would get you in jail if expressed in public. That's when you know you are in it for the long haul.
The more we get into the lyrics, the more it feels as if Ari is talking about her relationship with ex-boyfriend Mac Miller. She just wants us to imagine how perfect their life was until the point she decided to call it quits.
As imaginary as this song may sound, it is a song of love and unconditional caring for each other. It's sweet and tempting.
Let us know what you think about "imagine" by Ariana Grande. Are you excited for the new album in the making? Which part of the song did you like best? Leave a comment below.
Full Lyrics to "imagine" by Ariana Grande