Camila Cabello is all set to drop her second studio album 'Romance.' Appropriately titled, the singles released so far are more or less about Camila being in love. This is all thanks to her current boyfriend and singer Shawn Mendes. Alongside with their hit collaboration "Senorita," Camila revealed the full tracklist of the album today (Nov 30).
'Romance' Album Singles Chronology
Camila Cabello surprised her fans by releasing two singles on the same day; "Shameless" and "Liar" on September 5, 2019. Don't let the titles fool you, these songs are still about love. As the third single of the album, Camila released "Cry for Me" on October 4, 2019. Then she debuted the fourth single "Easy" on The Tonight Show on October 11th. The fifth and final single "Living Proof" was premiered on November 15th.
Album Cover Art Review
Camila Cabello unveiled the album artwork on November 13, which shows her in a sultry pose, alone, amongst a set of couples seemingly in love. There are same-sex lovers and opposite-sex lovers and lovers of mixed-ethnicities in this mix. All this is sunk in ankle-deep water, and Camila's exquisite red dress is dipped in water as well. Her hair is messy. This is a brilliant portrayal of the chaotic and messy and open nature of love in the modern world.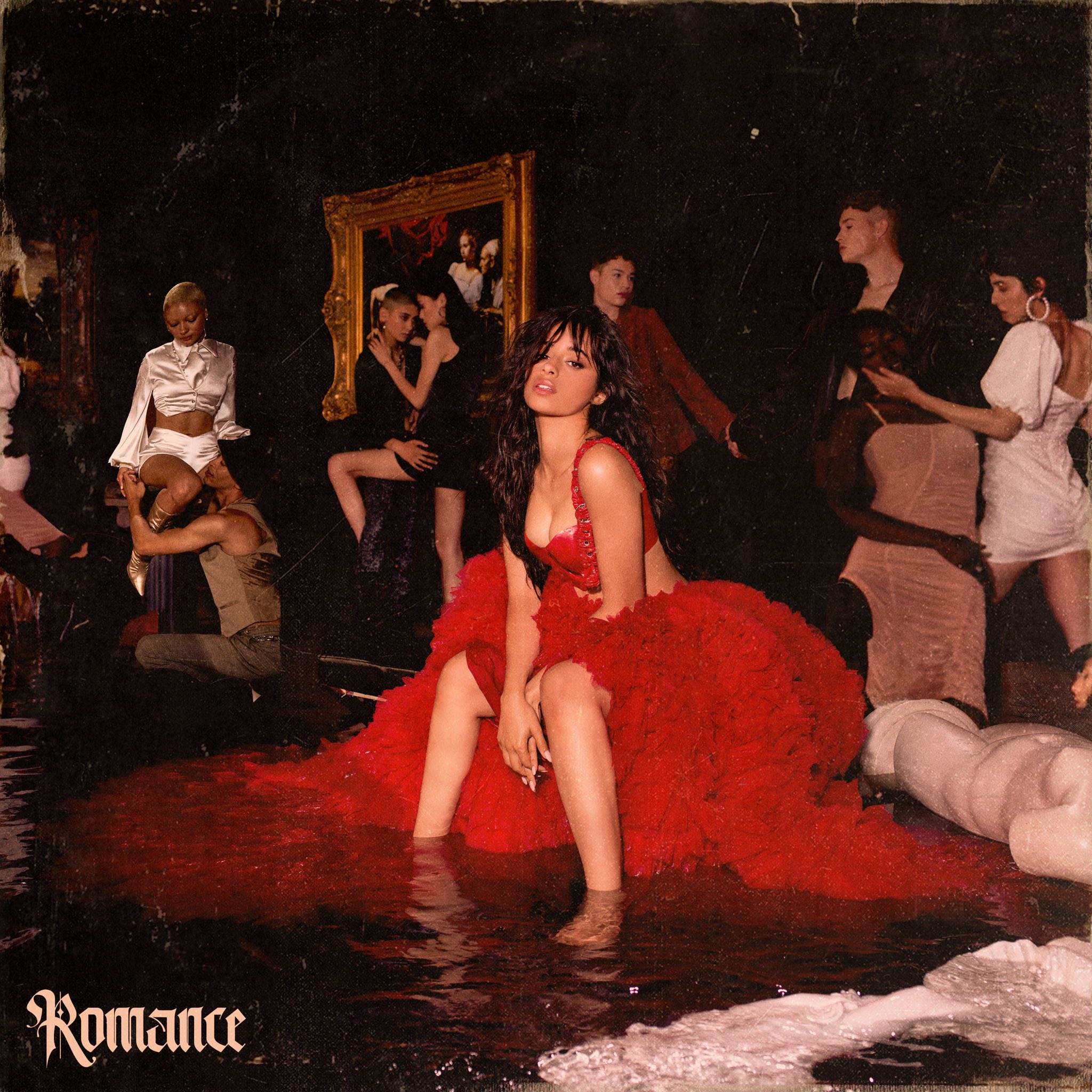 Along with this reveal, Camila released a note about the upcoming album; "I just wanted this album to sound like what falling in love feels like, pretty impossible thing to do but I can say I gave it all I had. I've never lived as much life as I did writing this album. It was messy and beautiful, unforgettable and at times so painful I wish I could forget. It was excruciatingly consuming and impossible not to get lost in…it was mine… and now it's yours."
'Romance' Album Track List
Camila Cabello dropped a full-on video to reveal the tracklist of the album, on November 30, 2019, a week ahead of its release date.
She captioned this post "Welcome to the world of #Romance."
1. Shameless
2. Living Proof
3. Should've Said It
4. My Oh My feat. DaBaby
5. Señorita feat. Shawn Mendes
6. Liar
7. Bad Kind of Butterflies
8. Easy
9. Feel It Twice
10. Dream of You
11. Cry for Me
12, This Love
13. Used to This
14. First Man
Notable writers on this tracklist are Shawn Mendes, Finneas, Ryan Tedder, and Camila herself.
Album Release Date
'Romance' album releases on December 6, 2019.
Buy Album
The album is available for online purchase on Apple Music and Amazon.
What are your favourite tracks on the album? Let us know in the comments below.