For a 25 year old singer/songwriter, Taylor Swift may be leading the most exciting life of all. She has a lovely family, a massively successful career and a fan base in millions across the globe. She is living the dream right now. But it was no overnight's success. The multi-million selling albums were not miracles, but mere hard work, dedication and love for what she does. Here is a small biography of Taylor Alison Swift.
Taylor Swift was born on December 13, 1989 in Reading, Pennsylvania. Her father is Scott Kingslet Swift and mother is Andrea Swift. It was not a musical household, but little did they know that this angel would grow up to shake the music industry all around the world. Both Taylor's parents were into financial businesses. Taylor Swift also has a younger brother named Austin Swift. And they were a happy, lovely and normal family.
Taylor Swift's love for music began at around the age of nine and she quickly discovered her love for Country music. She also attended several musical and acting classes too.
Little did we know, that Taylor Swift's first demo tape was rejected of a record label in Nashville. She was eleven by then. She was shattered, but she did not give up. Taylor Swift wrote her first song, "Lucky You" at the age of twelve.
Finally, at the age of 14, the Swift family settled in Nashville in support of Taylor's music pursuits.
While performing in Bluebird Cafe in Nashville in 2005, Taylor Swift caught the attention of Scott Borchetta, who owned a record label-Big Machine Records, which was just an infant company by then. And so began one of the best win-win deals for the duo and one of the most influential and luxurious music careers of all time. Taylor Swift the Country music sensation was discovered.
'Taylor Swift' Era
Soon after, in 2006, Taylor Swift releases her debut studio album. The self titled album, 'Taylor Swift', soon grabs the attention of not only Country music, but across genres. The New York Times said;
"a small masterpiece of pop-minded country, both wide-eyed and cynical, held together by Ms. Swift's firm, pleading voice."
"Tim McGraw" is the first official single of Taylor Swift's massive music portfolio. She and her mother is said to have packed the envelopes with CD copies of the single to be sent to radio stations. Talk about humble beginnings.
Other singles from 'Taylor Swift' album, "Our Song" and "Should've Said No" both peaked at number one spot on Billboard's Hot Country Songs, making Taylor Swift to be the youngest musician to write and sing a number one Country song at the age of 16.
Fore more about Taylor Swift's early career, read the Wiki page about it.
'Fearless' Era
Taylor Swift's second studio album 'Fearless' released in 2008 was, however, the one that really put her on the spotlight. Then the world knew Taylor Swift was not to be taken lightly and she is here to stay. The lead single from 'Fearless' was 'Love Story' and it is the second best selling Country single of all time. The album itself debuted at number one on Billboard Hot 200 chart and it's singles such as "White Horse", "You Belong With Me" and "Fearless" all topped Billboard charts.
Taylor Swift got a lot of helping hands during this stage. She was collaborating with mainstream artists back and forth. Taylor Swift co-wrote and performed "Crazier" for Hannah Montana soundtrack. She co-wrote and performed "Best Days Of Your Life" with Kellie Pickler. She also collaborated with Boys Like Gilrs on "Two Is Better Than One". Then she performed "Today Was a Fairytale" for Valentine's Day soundtrack, in which she also played a role.
She was the first Country music artist to win a MTV VMA award for "You Belong With Me" back in 2009. On the acceptance speech, Kanye West did the unimaginable and they recently buried the hatchet on that incident. Now they are best pals.
Many awards and accolades followed this, of which a full account can be found on Wikipedia.
'Speak Now' Era
The third studio album, although massively successful, narrated a much darker period in Taylor Swift's life. It is very well reflected in this 14-track album, which she wrote and recorded herself. It didn't stop the album from being a multi-platinum selling album.
"Mine", "Back to December", "Mean", "Ours" are a few singles of the 'Speak Now' album and are all tragic heartbreak stories, mostly closely associated with Taylor's personal life. This pure fact, made these songs and performances more relatable to the target audience of Taylor Swift.
The album also sold 1 million plus copies in the first weeks of sales, the 16th album to do so in the history of recorded music sales.
Speak Now world tour is considered to be one of the best tours by her. She covered North America, Asia, Europe, Australia and New Zealand throughout the world tour.
The lead single of the album, "Mean", won the Best Country Song and Best Country Solo Performance at 54th Annual Grammy Awards.
'Red' Era
Taylor Swift eventually got over her 'sad' phase and we get a more lively album in 2012. 'Red' album too surpasses 1 million plus sales in the opening week milestone quite easily-1.21 million copies to be exact. Taylor Swift wrote 9 of the 16 tracks on the album and other were co-written by some fellow artists.
The lead single of the album, "We Are Never Ever Getting Back Together", got Taylor Swift her first ever Billboard Hot 100 single. Back then it was a huge accomplishment for her-but now in the 1989-era, that is usually a normal thing.
The Red Tour was again a massively successful world tour, which grossed over $150 million.
'1989' Era
2014/15 marks the most successful in Taylor Swift's career and personal life. She releases her fifth studio album '1989' in October, 2014 and achieves yet another first week sales over a million copies.
The '1989' album also marks a huge transition in Taylor's music career. Although there were signs from the previous eras, a crossover of genres seemed pretty unrealistic. Taylor Swift was the face of Country music. But 'Speak Now' and 'Red' albums showed a slight inclination towards Pop music. And Taylor Swift went full on Pop with the '1989' album. She says she had her doubts, but she believed in her fans. And the fans believed in her. '1989' album has been making and breaking records ever since it came out. All the 16 tracks on the album are Pop.
The singles "Shake It Off", "Blank Space" and "Style" from the album have all topped the Billboard Hot 100 chart. As of February 2015 (in 5 months) the '1989' album has sold over 8.6 million copies worldwide.
The 1989 World Tour just began with the Asian leg-The 1989 Tokyo Tour on May 5. The rest of the tour will begin in a few weeks in USA, and Vance Joy, HAIM and Shawn Mendes will make guest performances on select concerts.
Most recently Taylor Swift won 50th Anniversary Milestone Award at the 2015 Academy of Country Music Awards, from her mother Andrea Swift.
Beyond these album works, Taylor Swift has done countless guest appearances, features and covers with other prominent and upcoming artists in the industry alike. Most recently she covered Vance Joy's "Riptide".
That is a very brief account of Taylor Swift's music career so far. It is quite impossible to sum it all up in one article. This is a profile of Taylor Swift, not a discography excerpt.
Taylor Swift the Role Model
If you are still unimpressed with Taylor's music career, wait!, there's more. Taylor Swift is considered one of the most looked after role models in the industry. She is well behaved, well spoken and well dressed. She even has a policy of 'No Midriff' on concerts. She is genuinely a character that can be looked up to by anyone-specially teenage girls who are the major portion of her fanbase.
Taylor Swift has no explicit lyrics. She is a good lyricists. But she has never used any curse words or other inappropriate words in her songs. It's all PG 13, and one of the main reasons why parents have no issue allowing their kids to associate Taylor Swift.
Taylor Swift is humble. She takes time out of her personal life to befriend her fans. She has a very strong relationship with her fansbase-Swifties. Before the release of the '1989' album, she held 1989 Secret Sessions to have mini 1989-listening sessions with select fans.
Taylor Swift is an avid social media personality. She is very active on Instagram, Tumblr, Twitter and Facebook. She uses Tumblr as an outlet to connect with her fans, and even chat up with them, and even give them sound life advice. Taylor is probably the only artist in the history to engage with their fans to such an extent.
Taylor Swift the model
Taylor Swift is naturally beautiful. And she can turn on the 'hot' switch in a matter of seconds. She needs not show her private body parts to become a headlining topic. Even if she takes a casual stroll on the road, it becomes newsworthy. That is the level of personality she has developed over the years.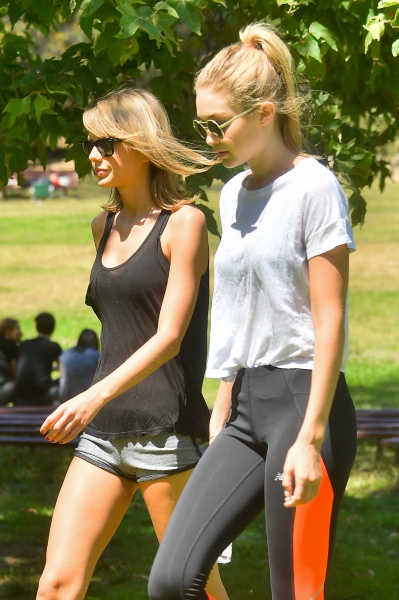 Taylor Swift has been on numerous magazine covers, that it isn't even possible to list them all out here. Maybe Wikipedia has a full list. But this simple Google search will prove my point.
She has been on Glamour, Billboard, Allure, Vogue, Nashville, Elle, Marie Clair, Cosmopolitan, Seventeen, InStyle, Harper's Bazaar, People Magazine and possibly every other entertainment magazine you can think of, not once, but multiple times on each of these magazines. Her interviews with those magazines are always insightful, fun and inspiring.
Taylor Swift's two Victoria's Secret performances unleashed the true model inside her. She looked stunning in lingerie.
Taylor Swift and her BFFs
Taylor Swift has the most adorable personality. She has many friends–from childhood and from her multi-million dollar career. Her childhood friendships like Abigail Anderson, still flourishes to date. She also has fans/BFFs such as Hayley Williams of Paramore, Lena Duham, HAIM sisters, Selena Gomez, Ellie Goulding, recently Kanye West and a few dozen more.
Taylor's Victoria's Secret performances in 2013 and 2014 earned her few super model friends too. She is currently very close friends with Karlie Kloss and Gigi Hadid.
Taylor Swift often takes her BFFs as her plus one to award ceremonies. Not necessarily because she doesn't have a boyfriend. Currently, she is dating the hot Calvin Harris, to many women's envy.
That is pretty much everything I can think about Taylor Swift. I'm sure I missed and excluded a whole lot about her. But this post wasn't done to cover up everything. This was merely a summary. There's so much to be said about a 25 year old millionaire who made it there from scratch.
Taylor Swift continues to grow. Judging by the '1989' success, Taylor Swift is just beginning. There's so much more to come. And she is ready to take on the world. She has an amazing family, who support her in every way possible. She has an amazing fanbase, who would literally do anything for her.
It is too early to predict what Taylor Swift will do next. She is full of surprises and she has quite the creative genes flowing in her. To her, the whole world is a basket of opportunities.
On behalf of JustRandomThings, we would like to congratulate Miss Taylor Swift for the stellar career she has had so far and wish her all the best for more amazing years to come. Be the amazing, humble and beautiful self you are, you rock!