Ever since the release of '1989' album in the last quarter of 2014, it has been total dominance of Taylor Swift on pretty much all of the music charts around the world. Billboard's music charts take a prominent place among these charts as one of the most popular and respected music charts. Taylor Swift has absolutely dominated Billboard Hot 100 as well as Billboard Hot 200 charts up until now, and that's about a cool three months.
Taylor Swift managed to OWN Billboard Hot 100 chart with consecutive number one singles "Shake It Off" and "Blank Space". Together they held the number one spot for over two months. "Blank Space" alone held the number one spot for seven weeks. Finally the streak ended last week with the Mark Ronson hit "Uptown Funk". The third single off of '1989' album "Style" will be released on Feb 10 and I have absolutely zero doubt that it will beat "Uptown Funk" or whatever the song that is at number one position by then. "Style" is that hip!
Billboard Hot 200 chart had only seen one number one album since last October. As soon as the POP '1989' album released, it soared to number one position and has been there ever since. Several new albums released since then, but they only saw the second spot of the Billboard Hot 200 chart. However it has been over two months since the release and sales of the album are dropping. We also got to know that '1989' has sold over 4 million copies in USA alone! So the drop in sales is purely due to fans having bought the album already. As of now I cannot imagine who would buy the album after two months of its release. But still sales are happening, but won't be enough to hold it in the number one position anymore.
There are several awesome albums releasing in the coming few weeks, and one of these would undoubtedly take over '1989s' number one position off the Billboard Hot 200 chart. It's just a matter of time. Every good thing must come to an end eventually (*sob*).
New Album Releases That Could Threaten '1989'
"Title" is the debut album of Meghan Trainor which released several days ago. Some predict that this debut effort will conquer '1989' from the next week when the charts refreshes, but I have my fair share of doubts. On the same day (Jan 13, 2015) "Uptown Special" by Mark Ronson was released as well. Sure, "Uptown Funk" holds the number one position on Billboard Hot 100, but as an album I doubt it can dethrone '1989'.
Upcoming Albums That Could Steal 1989's Spot
January 20 marks the release of a heavily anticipated rock album– "American Beauty / American Psycho" by Fall Out Boy. Although the full album leaked online today, I still expect this upcoming album to perform very well. This will be a very qualified candidate to end the '1989' streak.
We mentioned in a previous article that Mikky Ekko will be releasing his debut studio album "Time". Although I love the work he has done in this album, I doubt it will do any impact to '1989'. February 3, 2015 will be the date "Full Speed" by Kid Ink hits the streets. So far I am really impressed with the several singles released off of the album, and reading several reviews online proved my opinion. So it will be a huge hit once it releases, and is another possible candidate to dethrone '1989'.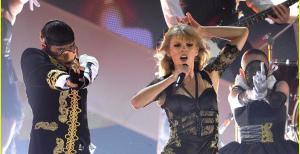 By February 2015 '1989' sales would have dropped drastically and pretty much any album by a mainstream artist could potentially climb to number one spot on Billboard Hot 200. These are all upcoming albums of 2015 we talked about. But do not forget, there are a few more albums already on the Billboard Hot 200 chart that could climb up! Currently second place is held by "X" by Ed Sheeran, and arrows indicate it is climbing up. Ed Sheeran will be performing at The Grammys and The BRIT Awards 2015, bot falling in February 2015 and the publicity from these award ceremonies will further boost "X" sales, and could potentially conquer '1989'. The third spot is held by "The Pinkprint" by Nicki Minaj and it is in a declining stage as of now.
According to our predictions, '1989' will rule the Billboard Hot 200 chart till the end of January 2015 and then will be conquered by one of the albums we have suggested above.
What do you think? Will '1989' be able to hold it's spot till the end of January or February with all the sizzling upcoming albums lined up? Let us know why you think so.